CALL OUT: Out There Bathurst Digital Program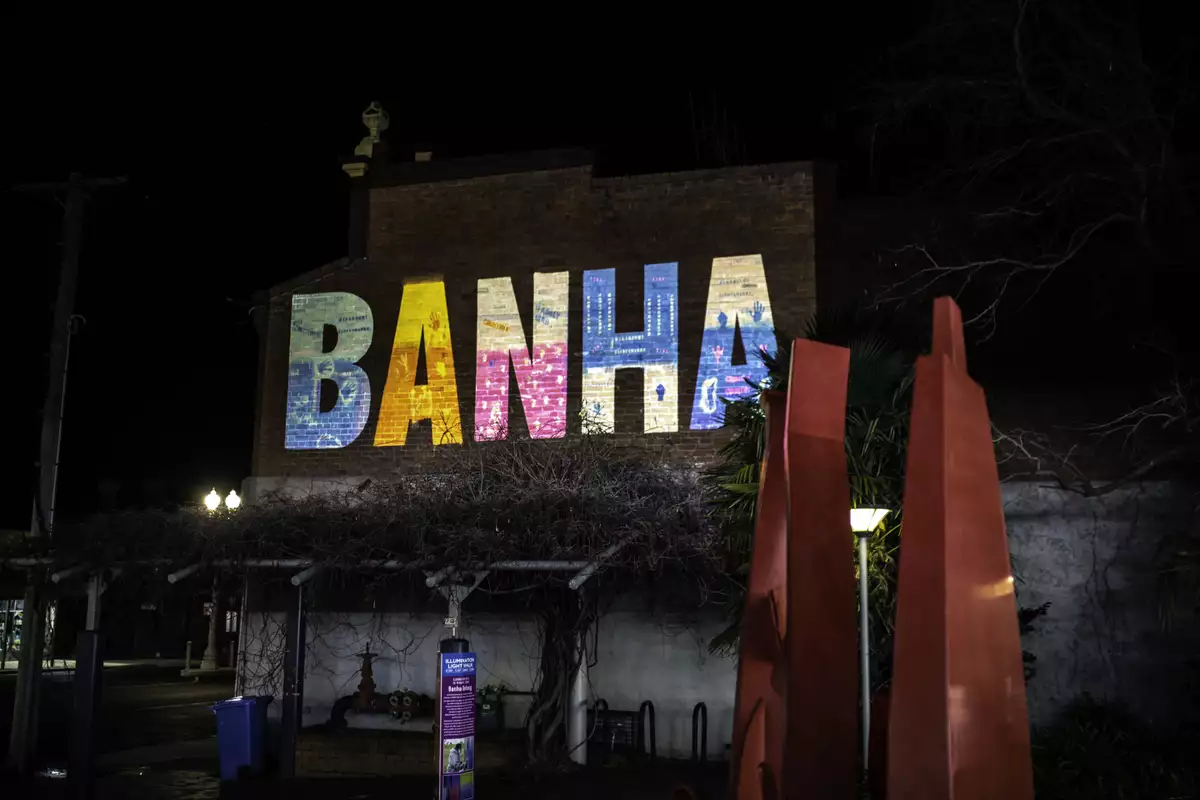 Exhibit with us at Bathurst Regional Art Gallery in 2023-24.
BRAG is seeking applications for our DIGITAL program, offering local and regional artists the opportunity to showcase their work projected in the OUT THERE BATHURST forecourt illumination space, located in the Gallery and Library Forecourt Precinct.
We strongly encourage applications from all artists including those who identify as First Nations, culturally and linguistically diverse, d/Deaf, disabled and LBTQIA+.
Applications close on 30 September 2023

For more information and to apply email brag@bathurst.nsw.gov.au
Streets as Shared Spaces
Utilising grant funding from the NSW Government's award-winning Streets As Shared Spaces (SASS) program, Bathurst Regional Council has commissioned a number of temporary public artworks installed in laneways in the Town Square Precinct. The SASS program aims to improve public spaces in urban areas to create places for social interaction, improve health and wellbeing, offer communities a sense of identity and character, and strengthen the economic role of the CBD.
The SASS public art commissions are in line with the Bathurst Public Art Policy which aims to provide for the development and delivery of a strategically planned and innovative public art program for the Bathurst Region based on contemporary creative thinking and best practice implementation models.
Post Office Building, 230 Howick St, Bathurst
Birrunga Wiradyuri with Kane Brunjes, Stevie O'Chin, and the Bathurst Wiradyuri Elders Blue Banded Bee Creation Story 2022, 6m x 15m.
Birrunga Wiradyuri's mural tells the creation story of the blue banded bee as told to him by his Elders:
The bees come from gibirrgan (the southern cross). They fall down to earth from these stars and when they first begin falling from the sky, they are bright white balls of light. As they fall and get closer to earth, they become glowing golden balls and when those golden balls land on earth they become our bees.
The important role the blue-banded bee plays in the ecosystem holds special significance for the Wiuradyuri. Other elements of the mural design, such as the white five-lined circular motif representing a Songline, explore the five aspects of the Wiradyuri central lore of Yindyamarra: to do slowly - to be polite - to be gentle - to honour - to respect.
Blue banded bees (Amegilla) are endemic to Australia, with eleven varieties found in all states and territories except Tasmania. These beautiful bees are recognised for the bold blue stripes on their abdomens, five on the males and four on the females.
Blue banded bees are important pollinators. Their long tongues allow them to access deep pollen reservoirs. They are also buzz pollinators which means that they can grasp flowers and vibrate them to shake pollen loose. The flowers of many of our native plants, and some crop plants such as tomatoes, are specially adapted to be pollinated by buzz-pollinators.
Blue banded bees are known as stingless bees. In many ways the benign nature of the blue banded bees embodies the strengths of the Wiradyuri lore of Yindyamarra. The bees in this mural are stylised and have specific symbolism in their design.
Artwork design was undertaken in consultation and collaboration with the Bathurst Wiradyuri Elders, the Traditional Custodians of the Bathurst region. The mural was painted by Birrunga Wiradyuri with Kane Brunjes and Stevie O'Chin, young First Nations artists who Birrunga mentors through the Birrunga Gallery's three-year Cultural Creative Residential program.
The SASS public art commissions have been managed by ESEM Projects in line with the Bathurst Public Art Policy which aims to provide for the development and delivery of a strategically planned and innovative public art program for the Bathurst Region based on contemporary creative thinking and best practice implementation models.
Birrunga Wiradyuri is a Wiradyuri man. He is the founder and principal artist of the multi award winning Birrunga Gallery and Dining in Brisbane's CBD and is dedicated to fulfilling his cultural responsibilities, following, and practicing the central Wiradyuri law of Yindyamarra. Birrunga is a practicing visual artist whose narrative works explore the spirituality of the Wiradyuri people, in historical and contemporary contexts.
Birrunga has undertaken numerous public art commissions, and has exhibited widely, including a solo exhibition at Bathurst Regional Art Gallery in 2020. Birrunga participated in the Australia Council's Custodianship Program in 2020. Through his work at the Birrunga Gallery he mentors young First Nations artists through the Birrunga Gallery's three-year Cultural Creative Residential program.
Kane Brunjes is a Gunggari, Kabi Kabi man practicing in both public and gallery realms. Through his art practice Brunjes aims to solidify and represent a visual portrayal of how he views and reacts to the environment surrounding him with consideration to history and story. Now working exclusively with Birrunga Gallery he continues to develop these core foundations with a guided lens of expertise. Brunjes is the inaugural participant in Birrunga Gallery's 3-year Cultural Creative Residential program.
Stevie O'Chin is an Aboriginal artist of the Kabi Kabi, Waka Waka & Koa tribe on her father's side, and Yuin Nation on her mother's side. Her paintings are inspired by her surroundings and the stories told by her parents and family elders. Stevie hails from a large family; many whom are artists from both her parents' side. She was influenced from a young age and has learnt to paint from watching her family members. She is now carving her own path and has grown into an accomplished artist in her own right. O'Chin is the second participant in Birrunga Gallery's 3-year Cultural Creative Residential program.
Ribbon Gang Lane, Bathurst
Rochelle Hayley, Ribbons 2022, acrylic discs, stainless steel rings, aluminium headrail, 210 x 290cm
Rochelle Haley's installation Ribbons reflects the architectural features of Bathurst's Town Square Precinct. The work echoes and connects the arched forms found throughout this historic precinct, including the arched windows and doorways of the former Bathurst TAFE and Anglican School (Church Bar) buildings, the glass arched architectural form of the Bathurst Regional Council chambers on Russell Street, and the South African (Boer) War Memorial in King's Parade.
The installation repeats archway motifs in positive and negative forms, and in bright and lively colours. Ribbons glows in different conditions, producing striking shadows, highlighting the play of coloured light both during the day and at night.
Ribbons contributes an uplifting sense of colour, luminosity, passage and hope for Bathurst. Haley has created a vibrant experience, which encourages exploration and discovery as well as providing an inspiring space to reflect and connect with Bathurst's vibrant history, heritage, and architecture.
Rochelle Haley is a practising artist engaging with painting, drawing and movement to explore relationships between bodies and physical environments. Haley's work reimagines material surfaces of representation, via methods that are sensory, kinaesthetic, affective, and rhythmic. Haley lectures in Painting and Drawing at UNSW Art, Design & Architecture, where she completed a PhD in 2009. Haley has staged 12 solo exhibitions and has participated in numerous group and curated shows at leading national venues including UQ Museum, Hazelhurst Regional Gallery, Museum of Contemporary Art Sydney Artbar, Carriageworks, and UNSW Galleries. Her works are held in various collections including Artbank, the NSW Attorney Generals Department and the Australian Catholic University.
Machattie Lane, Bathurst
Bespoke Furniture with Kerrie & Bubba Kennedy, Light Poles 2022, mixed media, solar lights
Light Poles a mixed media installation in Machattie Lane (off George St, Bathurst). Each of the eight pillars is manufactured from recycled steel drums, with hand laser cut motifs reflecting Aboriginal stories and endemic plant species. Each pole incorporates solar lighting to reflect design motifs and patterns in the laneway at night. Artwork motifs depict the connection to Country of the Wiradjuri Nation and the broader community:
The Wiradjuri people are known as the people of the three rivers
Wambuul (Macquarie River)
Galari (Lachlan River)
Marrmabidya (Murrumbidgee)
Over the past years there have been many different Aboriginal Nations that have resettled in these areas. They have learned to Respect, Learn and Share the Wiradjuri People and Country.
Landscaping by Bathurst Regional Council complements the artwork design, taking visitors on a journey through the vegetation and geology of three regionally significant landscapes: waterways and wetlands, grassy woodlands and densely vegetated mountain.
This laneway intervention aims to invite the community to contemplate the way in which the physical landscape shapes the human and cultural landscape, and the way humans in turn shape the landscape around them.
Out There Digital Platforms
In 2020, Bathurst Regional Art Gallery received funding through the State Government's Stronger Country Communities Fund (Round 3) to install digital public art platforms at key locations in the Bathurst CBD. These platforms provide exhibition spaces for a changing program of artworks by local artists, youth, and community groups to coincide with local and national events and festivals.
Out There Bathurst Digital Screens, Ribbon Gang Lane, Bathurst
Eight (8) digital LED screens have been installed in the windows of the former TAFE building on William Street to create an outdoor digital exhibition space. These screens will host a changing program of artwork showcasing work by local artists, students, youth, and community groups.
Sonny Day and Biddy Maroney, SERVED, 2022, digital eight screen animation, 2:38 minutes
SERVED is a digital animation work by Orange based art and design duo WBYK (Sonny Day and Biddy Maroney). A digital conversation between two individuals played out in colour, shape, and texture, SERVED draws from the artists' shared influences – zines, comic books, music, popular culture, and film. In this work, balls bounce through and between each screen; served, volleyed, and returned by the invisible digital hands of the artists. Like the pages of a artist zine, these balls lead us through a colour-rich world of imagery and imagination. SERVED has been commissioned as the foundation work for the ongoing Out There Bathurst program of digital art created by local artists, youth, and community groups aimed at promoting public art in the city as a vehicle for expression, site activation, and connection. This commission was supported by funding through the Museums & Galleries of NSW Let's Get Digital grant program aimed at supporting new strategies of digital engagement.
SONNY DAY and BIDDY MARONEY are an based in Orange, NSW where they run the creative agency We Buy Your Kids (WBYK). Their work is a conversation between two individuals played out in colour, shape, texture and drawing from their shared influences – comic books, skateboarding, music, and film. Sonny and Biddy worked and exhibited individually when they met in 2001. They began combining their talents in 2006, creating screen-printed posters for Popfrenzy tours on their living room floor, and have been working as a team ever since. Today they work for clients big and small around the world including Time Magazine, Rolling Stone Australia, The New York Times, ABC Radio National, Sydney Opera House, Disney, Adidas, Monster Children and MTV. Since 2012 they have created many sold-out licensed film posters for Cinema / Pop-culture powerhouse Mondo, including two solo exhibitions in the company's Austin Texas gallery.
Out There Bathurst Illumination Space, Gallery/Library Forecourt, 70-78 Keppel St, Bathurst
The Out There Bathurst Illumination Space offers a changing program of digital projections. Content is curated from a variety of sources including artist-led youth workshops, regional artist projects, community generated projects, and works from the Bathurst Regional Art Gallery permanent collection. A selection of recent projects follows:
BANHA (truly) BELONG Illumination (Sunday 4 July to Sunday 11 July 2021)
The BANHA BELONG digital mural project explored place, belonging, and identity in celebration of NAIDOC Week 2021. This digital artwork was an extension of a mural created by students from Denison College, Kelso High Campus in June 2021. Participants worked with street artist Sven to identify words, role models, and motifs that form the basis for stencils overlayed on to giant letters spelling the words BANHA (Wiradjuri for 'truly') and BELONG, creating a powerful, positive message for the community. BANHA BELONG was a partnership project between the Bathurst Local Aboriginal Land Council, Bathurst Regional Council, and Denison College, Kelso High Campus. This project is part of Museums & Galleries of NSW's Let's Get Digital initiative, proudly supported by the NSW Government though Create NSW as part of Arts Restart, and the NSW Government's Stronger Country Communities Fund.
NGUMBAAY GALANG (ONE BELONGING) Community Portraits Illumination (1 - 17 July 2022)
Ngumbaay Galang (One Belonging) was a two-year portrait project commissioned by the Bathurst Local Aboriginal Lands Council to celebrate the cultural connections of the Bathurst Aboriginal and Torres Strait Islander community. Photography by Hailee Taylor.